Internet Security
Security Measures by eQuotation
eQuotation provides the following measures to ensure your quotation information are secure when you are using our service:

Secure Socket Layer (SSL) & Strong Encryption (128 bit)
Secure Socket Layer and 128 bit encryption is employed to ensure confidentiality. All data and information transmitted between you and our company through Internet is encrypted by using 128-bit encryption. To ensure your online transaction information is encrypted, look for the 'lock icon' in the status bar of your internet browser on the right hand side corner of your PC while you are connected.

Firewalls
We also use firewalls to protect the inside of Sino Property Services' computer systems by refusing those entries that were unauthorized.

Last Logon Information
eQuotation also provide you with the information required to be vigilant. Each time you logon, we provide information related to your last login session. If you find any discrepancies, please contact us immediately.

Security Measures by Vendor
Take good care of your Password
The Password of eQuotation is used to secure your online transactions. You play an important role in protecting your Password:

You are suggested to memorize your Password and destroy the Password notification, then change your Password after first successful login to eQuotation.
Avoid using easy-to-access numbers as your Password, such as BR No., Phone No., or similar numbers or a recognizable part of your company name as your Password.
Do not write down or record the Password without disguising it.
Do not use same set of Password from other Internet sites.
Regularly change your Password (e.g. 6 months).

Protect your online transactions
Always exit using the 'Logout' button to ensure you end each Internet session securely.

Make sure you are connected with eQuotation
Recently, there are some fradulent websites that mimics the look of commercial company's website to capture your vendor names and other confidential details. Thus, it is important to make sure that you are connecting with eQuotation. To stay away from connecting with a fraud website, never follow a link within an email to reply an invitation. Always logon directly from your browser or select from your favourite if you have already added eQuotation to your list of favourite internet sites. This will avoid you from being sent to a false site.

To ensure that you are connecting with eQuotation, look for closed security padlock

at the bottom right corner of your Web browser before you enter your vendor code and Password. A closed security padlock

indicates a secure connection. Clicking the closed padlock will show you the digital certificate details.
Sample screen shot of Internet Explorer's certificate for your reference: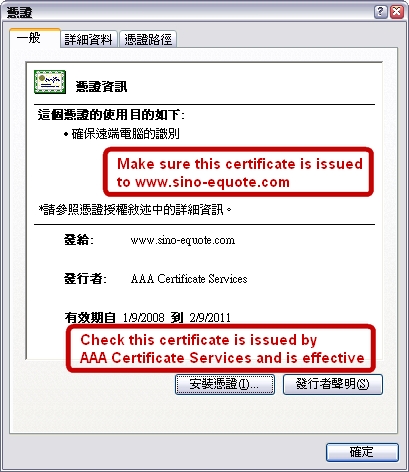 Note: After clicking the security padlock and you find the certificate contains any message different from what is illustrated above, please contact Sino Property Services for more information or assistance.

Internet Privacy Policy Statement
It has been our policy and priority to safeguard any information provided by our vendors. In visit to our website, we collect no personal data from any supplier for browsing. Throughout the website, only quotation softcopy and the reason of decline to quote and will be collected. In order to ensure the security and confidentiality of personal data we collect, encryption techniques have been applied for data transmission. We will not collect any information from suppliers without notice. Once we obtain supplier's quotation, only the authorized staff will be permitted to access to it, and it will not be revealed to any external organizations without supplier's agreement unless it is required to do so by law.

互聯網保安
eQuotation電子報價網上保安措施
eQuotation電子報價提供多項保安措施保障您的網上報價:

Secure Socket Layer (SSL) 128-元位加密
為保證資料保密,我們的系統採用「SSL」加密技術,它是國際認可標準的保安技術。您和我們公司之間所有透過互聯網傳送的重要資料,會以此技術加密,以保障您的資料安全。當您連線時,請留意瀏覽器右下角狀態列所顯示的「安全鎖」標誌。這些標誌及信息是用作提示您的網上交易資料已作加密處理。

多重防火牆技術
當資料傳送至本公司後,有關之網頁伺服器均安裝多重防火牆技術,以探測及防止未獲授權的人仕進入本系統。

登入記錄
eQuotation電子報價為提高您的警覺性,當您每次登入時,我們都提供有關您於上一次在登入的資料。如您發現有任何不符的地方,請即聯絡我們。

供應商使用互聯網及eQuotation電子報價時的保安措施
有效及妥當運用您的密碼
您的eQuotation電子報價密碼乃為保障您使用網上報價的安全而設,請勿隨便公開。您並應留意以下保管用戶密碼需注意之事項:

當您收到私人密碼之通知信後,請牢記您的密碼,然後撕掉通知信,並於首次成功登入後更改您的密碼。
請勿使用容易被猜中的號碼作為密碼,如您的商業登記號碼、電話號碼或類似的數字或您公司名稱的可辨認部份。
請勿寫下或紀錄密碼而不加掩藏。


請勿等同其他網站登記使用之用戶號碼或密碼作為您的eQuotation電子報價密碼。
您應經常更改您的eQuotation電子報價密碼,例如每隔6個月更改一次。

保護您的網上交易
請勿中途離開您的電腦工作間及於每次使用eQuotation電子報價後,您必須先按「登出」(Logout),以免遭他人盜用您的賬戶,請謹記只關閉瀏覽器是不能登出服務的。

確保您所瀏覽的是eQuotation電子報價網站
近日有騙徒建立偽造網站,藉此要求向大規模商業機構的客戶偷取用戶名稱、私人密碼及其他機密資料。為保護您的保密資料,必須確認您已聯繫到eQuotation電子報價網站。為防止連結到假的eQuotation電子報價,請避免使用電郵內或其他網站上的連結。您可從您的瀏覽器直接登入;如果您已將eQuotation電子報價加入到「我的最愛」,更可從中選擇該連結登入。這能避免您被引導至偽造網站。以下的說明可以助您更快辨識索取資料者的真偽。

當輸入用戶號碼及密碼前,請檢查螢幕右下角是否有的「安全鎖」

的出現 。「安全鎖」

代表安全連結。只須按下鎖扣,即可查察安全憑證詳請。

以下是InternetExplorer安全憑證的螢幕顯示範本以供參考: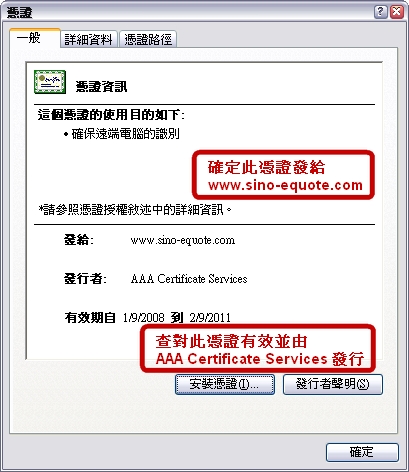 注意:如您按下「安全鎖」後發現任何信息與以上所顯示的不符,請聯絡信和管業優勢提供資料或協助。

互聯網私隱政策聲明
保障客戶的資料為本集團之政策,亦被視為我們其中一項首要的工作。當任何人仕到訪及瀏覽我們的網址時,我們將不會收集其個人資料。在整個網址上,我們只會收集報價檔案以及未能報價之原因。為了確保報價的保安及保密,我們採用了加密法傳輸所收集的資料。在此我們重申,本集團不會在沒有告知客戶的情況下收集任何資料。當報價被收集後,只有被授權之員工能夠閱讀,而在未取得客戶同意前或除法律要求外,所有資料均不會透露予任何外間機構。